In January 20, 2018, organized by AFD China, more than 20 of our staff and their family members paid a visit to Chenguang rehabilitation center. It was the second time after AFD China has sponsored the treatment and care of the sick children.
Children receiving rehabilitation training at the Center are at the ages from 2 to more than 10 years old. Apart for limbs rehabilitation training, children also have music class, reading class and so on, which help to develop the mental, intelligence, and esthetics of the children. Most teachers of the Center are young people. To help the cerebral palsy children live a normal life, they give up the opportunity of pursuing a more abundant life but endeavor to train and accompany with those children with a great capacity of love. We are moved by the teachers' boundless patient and professional training skills as well as the children's brightness and naivete, which make this winter filled with warm air that can be felt in spring only.
This time, the director of Chenguang rehabilitation center gave a brief introduction of the Center to us. We learnt from his introduction that children receiving treatment at this center are mainly cerebral palsy children who have the chance to accept such treatment under the support of benevolent enterprises and individual, government or their parents. And some of them are foundlings which are directly supported by the Center. At present, more than 70 children are receiving treatment at this Center. To learn to sit, to stand or to walk, a continuous of more than 30,000 times of muscular training will be needed respectively. Any interruption will lead to muscle atrophy and regression and thereby make all efforts already made become in vain. Those little ones know they shall pay more to live a normal life. And they never give up. The tenet of Chenguang rehabilitation center is not only to help children to master the basic ability of acting but also help them to become an independent individual and have the ability to pursue their purpose and dream, which is the real meaning of salvation.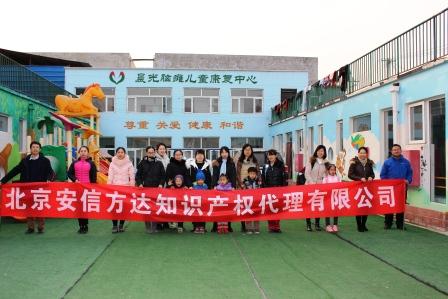 During the visit, we read, drew, walked and played with the children. We notice that some children who had to move with a wheelchair could walk independently in this year; some others who spoke with a lisp could say simple vocabulary in this year. The child directly sponsored by AFD China is much optimistic and open-minded than before. As the mother of a prematurity, his mother insist to having her son study in normal school and teach him to accept the handicapped self, which makes him confident and degage. We believe these are valuable gift from his mother which is applicable throughout his whole life. The director said that he could live a normal life after this year's rehabilitation training. We sincerely hope he could live happily and smoothly in the future.
Although the time with the Children is short, each of us have learnt a lot from and deeply moved by those little lively lives. Comparing with what the Children got from us, we think we learnt more from them. We will continue organizing such meaningful activities in the future. Hopefully more people will take part in such commonweal undertakings. Wish love roots in our hearts and grows strong and tall, so as to spread to more people who need our help.