AFD China Joined the Capital Intellectual Property Development Association for the Belt and Road Initiative
2020-01-13
On January 7, 2020, under the joint initiative of Beijing Intellectual Property Protection Association and Beijing Patent Attorneys Association, the Capital Intellectual Property Development Association for the Belt and Road Initiative was launched. AFD China Intellectual Property Law Office had the honor of being one of the first members of the Association.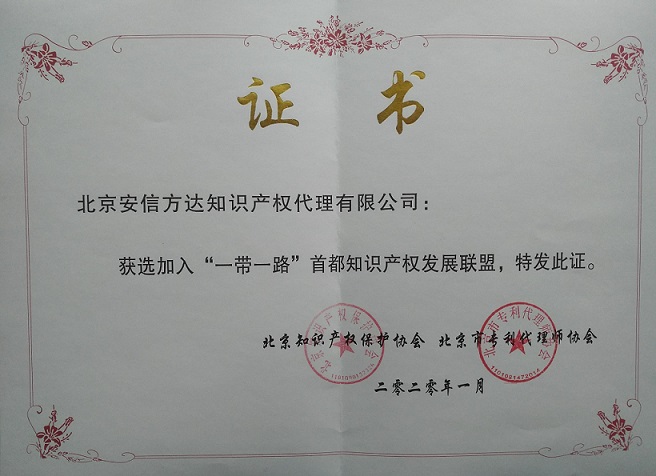 The Association will implement the national and capital intellectual property strategy to further enhance the internationalization of intellectual property in Beijing. After the establishment, the Association will devote itself to the formulation and operation of a platform for international communications on intellectual property; carry out training on international laws and practices to enhance members' knowledge and service capabilities; promote international intellectual property and technology exchanges, organize and participate in international seminars, exhibitions, trade and other activities.
Through the protection and utilization of intellectual property rights, the Association aims at giving full play to its abilities and advantages in intellectual property protection, and promoting the cooperation and development of intellectual properties under the belt and road initiative in Beijing.
AFD China Intellectual Property has been helping clients with patent strategy, filing, prosecution, and protection in the belt and road countries for years. We understand clients' needs, are familiar with the intellectual property systems of the countries, keep ourselves up with the changing practice in the countries, and strive to provide quality and efficient services.
Becoming a member of the Association gives us the opportunity to access to more guidance and support, which therefore will help further improve our services to a higher level of professionalism and efficiency. At the same time, we will do our best to provide the Association with our views and assistance to contribute our share to China's intellectual property industry.