AFD China was once again recommended by IAM Patent 1000
2021-08-19
Recently, world-renowned IP business media platform Intellectual Asset Management (IAM) released the 2021 edition of IAM Patent 1000. AFD China was again recognized as a leading firm in the listing. Since 2016, this has been the fifth time AFD China was ranked in the listing, and our president Ms. Xia Zheng was again identified as a leading patent attorney.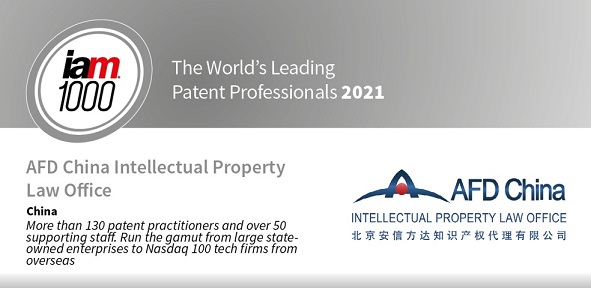 IAM Patent 1000 conducts a survey and evaluation of patent practitioners in 50 jurisdictions around the world each year. After five months of interviews with IP service providers and their clients, IAM identifies the leading patent professionals based on a comprehensive evaluation of their services, teams, cases, recent development and growth momentum.

This year, the survey also paid special attention to the impact of the covid-19 pandemic on global patents. The steady increase of patent applications in China (the world's third largest patent destination) during the pandemic gives people confidence about the Chinese market, and China National Intellectual Property Administration's stress on the quality of patent applications and China's determination to protect patent rights holders and combat infringement are also exciting.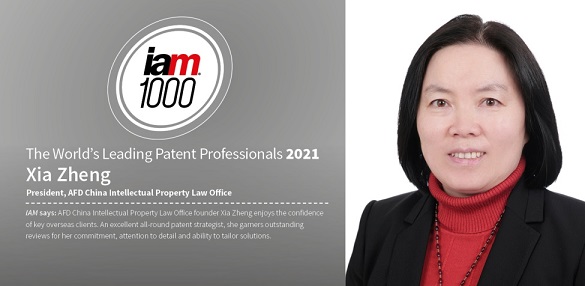 As a Chinese patent law firm, we adhere to the principles of "honesty and faith", persist in providing quality services, and hope to, through our efforts, help clients safeguard their rights and interests and also do our bit for the development of China's intellectual property industry.

Without our clients' trust or support, we can never be recognized by IAM as a leading firm in patent prosecution for several consecutive years. This honor also strengthens our determination to keep improving our services and professional abilities. We will continue to adapt to changes in the market and meet the changing needs of clients by providing them with tailored and satisfying services.